2023-2024 College Baseball Coaching Carousel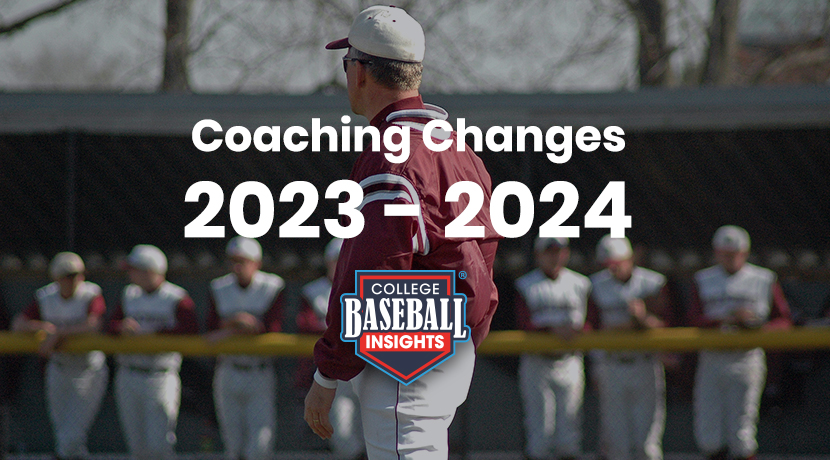 Updated: 9/15/23
There have been 182 Head Coaching changes for the 2023-24 season
Want a full list of annual head coaching changes.   NCAA-D1 and NCAA-D3 have consolidated website(s) of coaching changes.
We've been unable to find a centralized website for the other divisions, thus we rely on various sources to create an up-to-date listing.
We appreciate any notices you receive to keep this article current
Links to the coaches press release are provided where available.
Make sure to bookmark this page.
NCAA-D1
(41 Coaching changes)
| | | | |
| --- | --- | --- | --- |
| Press Release | College | In | Out |
| 8/18/2023 | Northwestern | Ben Greenspan | Jim Foster |
| 8/10/2023 | Maryland Eastern Shore | Danny Acosta | Shawn Phillips (Interim) |
| 8/7/2023 | Massachusetts-Lowell | Nick Barese | Ken Harring |
| 8/1/2023 | Wisconsin-Milwaukee | Shaun Wegner | Scott Doffek |
| 7/25/2023 | San Diego State | Shaun Cole | Mark Martinez |
| 7/21/2023 | Mississippi Valley State | CJ Bilbrey | Milton Barney Jr. |
| 7/18/2023 | Siena | Alex Jurczynski | Joe Sheridan (interim) |
| 7/13/2023 | Wofford | JJ Edwards | Todd Interdonato |
| 7/12/2023 | Boston College | Todd Interdonato | Mike Gambino |
| 7/7/2023 | Western Illinois | Terry Davis | Taylor Sheriff (interim) |
| 7/6/2023 | Queens University of Charlotte | Ricky Hendrick | Ross Steedley |
| 7/3/2023 | Penn State | Mike Gambino | Rob Cooper |
| 7/1/2023 | Lindenwood | PJ Finigan | Doug Bletcher |
| 6/27/2023 | Central Michigan | Jake Sabol | Jordan Bischel |
| 6/26/2023 | Miami | JD Arteaga | Gino DiMare |
| 6/24/2023 | Jacksonville State | Steve Bieser | Jim Case |
| 6/24/2023 | Loyola Marymount | Donegal Fergus | Nathan Choate |
| 6/24/2023 | Morehead State | Braeden Ward (interim) | Mik Aoki |
| 6/23/2023 | North Florida | Joe Mercadante | Tim Parenton |
| 6/22/2023 | Richmond | Mik Aoki | Tracy Woodson |
| 6/20/2023 | Akron | Bryan Faulds | Tim Donnelly (Interim) |
| 6/19/2023 | Long Beach State | Bryan Peters (interim) | Eric Valenzuela |
| 6/19/2023 | New Mexico State | Jake Angier | Mike Kirby |
| 6/19/2023 | St. Mary's College  (CA) | Eric Valenzuela | Greg Moore |
| 6/18/2023 | Cincinnati | Jordan Bischel | Scott Googins |
| 6/18/2023 | Memphis | Matt Riser | Kerrick Jackson |
| 6/18/2023 | Washington State | Nathan Choate | Brian Green |
| 6/17/2023 | Navy | Chuck Ristano | Paul Kostacopoulos |
| 6/16/2023 | Eastern Michigan | Robbie Britt | Eric Roof |
| 6/13/2023 | Northern Illinois | Ryan Copeland | Mike Kunigonis |
| 6/12/2023 | Alabama | Rob Vaughn | Brad Bohannon/Jason Jackson (interim) |
| 6/12/2023 | Maryland | Matt Swope | Rob Vaughn |
| 6/12/2023 | UCF | Rich Wallace | Greg Lovelady |
| 6/10/2023 | Miami (Ohio) | Brian Smiley | Dan Hayden |
| 6/8/2023 | Tarleton State | Fuller Smith | Aaron Meade |
| 6/6/2023 | Northwestern State (LA) | Chris Bertrand | Bobby Barbier |
| 6/5/2023 | Georgia | Wes Johnson | Scott Stricklin |
| 6/5/2023 | Southeastern Louisiana | Bobby Barbier | Matt Riser |
| 6/5/2023 | Wichita State | Brian Green | Loren Hibbs(Interim) |
| 6/3/2023 | Missouri | Kerrick Jackson | Steve Bieser |
| 5/21/2023 | Southern Mississippi | Christian Ostrander | Scott Berry |
NCAA-D2
(23 Coaching changes)
| | | | |
| --- | --- | --- | --- |
| Press Release | College | In | Out |
| tba | Clarion University of PA | tba | Deron Neiman |
| tba | Mercyhurst College | tba | Joe Spano |
| 8/25/2023 | Nova Southeastern University | Adrian Morales | Laz Gutierrez |
| 8/23/2023 | Christian Brothers University | Adrian Dorsey | Lee Parks |
| 8/11/2023 | Southern New Hampshire University | Chris Shank | Scott Loiseau |
| 8/11/2023 | Miles College | Cody Hamilton | Ty Roberts |
| 8/2/2023 | East Central | Kevin Paxson | Sunny Golloway |
| 7/17/2023 | Illinois at Springfield | Trevor Forde | Ryan Copeland |
| 7/17/2023 | Upper Iowa University | Brian Voigt | Jeremy Ische |
| 7/14/2023 | University of Charleston | Dean Peterson | Robbie Britt |
| 7/11/2023 | West Alabama | Eric DuBose | Gary Rundles |
| 7/10/2023 | Northwood University-Michigan | Brad Baldwin | Jake Sabol |
| 6/29/2023 | New Mexico Highlands University | Harry Estep | Shannon Hunt |
| 6/28/2023 | Auburn University at Montgomery | Franklin Bush | Marty Lovrich |
| 6/16/2023 | Saint Edward's | Ryan Femath | Bryan Faulds |
| 6/15/2023 | *Holy Family | Kyle Davis | |
| 6/15/2023 | Southwest Minnesota State University | Jeremy Ische | Paul Blanchard |
| 6/14/2023 | Grand Valley State University | Jordan Keur | Jamie Detillion |
| 6/1/2023 | Barry University | Brett Young | Juan Ranero |
| 6/1/2023 | St. Mary's University | Michael Cavazos (Interim) | Chris Ermis |
| 5/22/2023 | McKendree University | Tim Gurnow | Andrew Stepp |
| 5/1/2023 | Missouri Western State University | Damian Stambersky | Buzz Verduzco |
| 9/27/2022 | *Chaminade | Chad Konishi | |
NCAA-D3
(34 Coaching changes)
| | | | |
| --- | --- | --- | --- |
| Press Release | College | In | Out |
| tba | Rhode Island College | tba | Frank Holbrook |
| tba | Willamette | tba | Aaron Swick |
| 9/14/2023 | California Lutheran | Erik Scherer | Marty Slimak |
| 9/13/2023 | Arcadia University | Charles Thielmann | Bryan Torresani |
| 8/28/2023 | Saint Joseph's College-New York | John Downey | Peter Blumenauer |
| 8/28/2023 | Bethany College (WV) | Michael Finlan | Justin Turner |
| 8/25/2023 | Vassar College | Blayne Fuke (Interim) | Matt Righter |
| 8/22/2023 | Stevenson | Matt Righter | Dave Gage |
| 8/18/2023 | Maine at Presque Isle | Dan Prigge | Roger Stinson |
| 8/18/2023 | Union College (New York) | John Muller | Paul Mound |
| 8/14/2023 | The College of Wooster | Aaron Swick | Barry Craddock |
| 8/9/2023 | Wilkes University | Mike Guy | Kevin Gryboski |
| 8/6/2023 | Lynchburg College | Travis Beazley | Lucas Jones |
| 8/4/2023 | Wisconsin-Eau Claire | Patrick Reilly | Mark Faanes (Interim) |
| 7/27/2023 | Wilson College | Vaughn Parker | John Poss |
| 7/26/2023 | University of Dubuque | Dan Spain | Paul Wyczawski |
| 7/23/2023 | Wilmington College (Ohio) | Barry Craddock | Tony Vittorio |
| 7/18/2023 | Elmhurst | Joe Heller | Joel Southern |
| 7/14/2023 | University of Valley Forge | Neil Herman | Joseph Clancy |
| 7/12/2023 | Defiance College | Shane Gardner | Ben Babcock (Interim) |
| 7/11/2023 | Lancaster Bible College | Ryan MacFarlane | Caleb Abney |
| 7/10/2023 | University of St Thomas | Torry Peterson | David Wood |
| 7/7/2023 | Northland College | Cal Fougner | Jeremy Snow |
| 7/1/2023 | Crown College (MN) | Colt Sedbrook | Brooks Repking |
| 6/29/2023 | Thomas College | Ray Bernier | Greg King |
| 6/27/2023 | Belhaven University | Andrew Gipson | Kyle Palmer |
| 6/26/2023 | Mitchell College | Shawn Gilblair | Travis Beausoleil |
| 6/23/2023 | Wisconsin-Eau Claire | Mark Faanes (Interim) | Charles Bolden |
| 6/6/2023 | Sewanee- South | Nate Burns | David Jenkins |
| 6/5/2023 | Albertus Magnus College | Ian Ratchford | Brian Leighton |
| 6/2/2023 | Texas Lutheran University | Kyle Palmer | Rick Heines |
| 5/18/2023 | Wartburg College | Casey Klunder | Casey Chaplin (Interim) |
| 5/15/2023 | Northwestern-St. Paul | Jesse Eikum | Dave Hieb |
| 3/1/2023 | Concordia College, Moorhead | Anthony Renz | Chris Coste |
NAIA
(20 Coaching changes)
| | | | |
| --- | --- | --- | --- |
| Press Release | College | In | Out |
| tba | Benedictine University at Mesa | tba | Brian McCabe |
| 9/5/2023 | Madonna | Christian Penn (Interim) | Justin Karn |
| 8/31/2023 | Saint Ambrose University | Tony Huntley | Jim Callahan |
| 7/26/2023 | Clarke University | Brian McCabe | Dan Spain |
| 7/26/2023 | Midland University | Shea Bennett | Chad Miller |
| 7/10/2023 | Johnson University | Dave Serrano | Ryan Bruce |
| 7/1/2023 | Southern @ New Orleans | Olen Parker | |
| 7/1/2023 | Indiana University-Southeast | Brett Neffendorf | Ben Reel |
| 6/26/2023 | Indiana Wesleyan University | Ian Macdonald | Rich Benjamin |
| 6/23/2023 | Shawnee State University | Rob Ehlers | Seth Pluta (Interim) |
| 6/23/2023 | Valley City State University | Alec DeMaria | Casey Olney |
| 6/16/2023 | Peru State College | Blake Beaber | Wayne Albury |
| 7/1/2023 | Southern @ New Orleans | Olen Parker | |
| 6/1/2023 | Texas College | Jarrail Jackson | Anthony Macon |
| 5/25/2023 | University of Antelope Valley | Justin Stark | Neal White |
| 5/23/2023 | Southwestern (KS) | Mark Carvalho | Chris Dawson |
| 5/12/2023 | McPherson College | Chris Dawson | Pete Horner/Andrew Pratt |
| 5/3/2023 | Goshen College | Brad Stoltzfus (Interim) | Alex Childers |
| 4/27/2023 | Mayville State | Billy Tomblin | Scott Berry |
| 3/31/2023 | New College of Florida | Mariano Jimenez, Jr. | |
NJCAA
(48 Coaching changes)
| | | | |
| --- | --- | --- | --- |
| Press Release | College | In | Out |
| tba | Columbia-Greene Community College | tba | |
| tba | *Arkansas State University Three Rivers | tba | |
| tba | *Montcalm Community College | tba | |
| tba | Butler Community College | tba | BJ McVay |
| 9/5/2023 | Miami Dade College | Lazaro Llanes | Adrian Morales |
| 8/30/2023 | Missouri State University-West Plains | Kadem Tharp | |
| 8/28/2023 | County College of Morris | Joe Matarazzo | Jason Fiore |
| 8/26/2023 | *Southeast Arkansas College | Toby Cornejo | Steven Adams |
| 8/18/2023 | North Arkansas College | Karsten Leigwold | Kadem Tharp |
| 8/14/2023 | Central Arizona College | JoJo Howie | Anthony Gilich |
| 8/7/2023 | Southern Arkansas University Tech | Nick Piraino | Tanner Rockwell |
| 8/2/2023 | Kishwaukee College | Joe Maskivish | Mark Hernandez |
| 8/1/2023 | Abraham Baldwin Agricultural College | Brooks Calvo (Interim) | Matthew Williams |
| 8/1/2023 | Rowan College of South Jersey-Cumberland | Joey Gorman | Macro Carolla |
| 7/31/2023 | Luna Community College | Erick Wright | Harry Estep |
| 7/31/2023 | Bryant & Stratton College (OH) | Austin Szemacs | Jake Plata |
| 8/4/2023 | Lawson State | Ty Roberts | Thomas Lowery |
| 7/27/2023 | Iowa Lakes Community College | Chris Witzke | Danny Acosta |
| 7/27/2023 | Eastern Arizona College | Kevin Kimball | John Chalmers |
| 7/24/2023 | Northern Oklahoma College-Tonkawa | Michael Keeran | Ryan Bay |
| 7/21/2023 | Metropolitan Community College-Kansas City | Aaron Meade | Marty Kilgore |
| 7/21/2023 | University of Connecticut-Avery Point | Connor Lewis | Ian Ratchford |
| 7/20/2023 | Eastern Oklahoma State | Dru Sebastian (Interim) | Brock Moss |
| 7/7/2023 | St Clair County Community College | Rich Robinson | Ryan Kottke |
| 7/1/2023 | North Central Texas College | Shayne Kelly | Erick Wright |
| 7/1/2023 | Prairie State College | Dre Gilmore | Pascual Santiago |
| 6/29/2023 | Howard College | Trevin Sonnier | Jake Carlson |
| 6/28/2023 | Lake Region State College | Laurence Aranago | Jon Lund |
| 6/28/2023 | Northern Oklahoma College-Enid | Ryan Bay | Scott Mansfield |
| 6/27/2023 | Illinois Eastern Community Colleges-Lincoln Trail College | Collin Maynard | Kevin Bowers |
| 6/27/2023 | Southwest Virginia Community College | Steven McMillan | Stephen Wagner |
| 6/22/2023 | Glen Oaks Community College | Tucker Waddups | Scott Chase |
| 6/12/2023 | University of Arkansas Community College Rich Mountain | Junior Weaver | Lance Spigner |
| 6/9/2023 | Coastal Bend College | Ryan Benitez | Brian Bauerle |
| 6/7/2023 | Illinois Eastern Community Colleges-Olney Central College | Phil Britton | Dennis Conley |
| 6/1/2023 | Community Christian College | Tony Garcia | Mike Montano |
| 6/1/2023 | Hutchinson Community College | Brock Nehls | Ryan Schmidt |
| 6/1/2023 | Marion Military Institute | Jonah Todd | Matt Downs |
| 6/1/2023 | Marian-Ancilla | Chuck Bowen (Interim) | Kirk Cabana |
| 6/1/2023 | Suffolk County Community College | Pete Blumenauer | Jason Galbraith |
| 4/21/2023 | *Southeast Arkansas College | Steven Adams | |
| 4/14/2023 | Illinois Valley Community College | Leonard Newell | Jason Goode |
| 4/14/2023 | North Dakota SCS | Jack Junker | Jonathan Reinebold/Jack Junker |
| 2/27/2023 | Central Lakes College-Brainerd | Blaine Hardy | Brian Voigt |
| 1/1/2023 | Gordon State College | Tanner Hall | Kent Rollins |
| 1/1/2023 | New River Community College | Wes Adcock | |
| 9/14/2022 | Broome Community College | tba | Brian Burgamy |
| 5/17/2022 | Gadsden State | Blake Lewis | |
CCCAA
(6 Coaching changes)
| | | | |
| --- | --- | --- | --- |
| Press Release | College | In | Out |
| 6/27/2023 | Modesto Junior College | Alex Leach | Nate Gregory |
| 6/24/2023 | Chabot College | Paul Harley Wiebens | Will Tavis |
| 6/14/2023 | Victor Valley College | Nate Lambdin | Adam Santa Cruz (Interim) |
| 6/2/2023 | Ventura College | David Soliz | Jimmy Walker |
| 6/1/2023 | San Diego Mesa College | Jake Portugal | Steven Sanchez |
| 5/19/2023 | Gavilan College | Rob Sanchez | Neal Andrade |
NWAC
(2 Coaching changes)
| | | | |
| --- | --- | --- | --- |
| Press Release | College | In | Out |
| 8/18/2023 | Grays Harbor College | Austin Hogue | Gunnar Ueda-Pancheri |
| 7/13/2023 | Tacoma Community College | Ian Sanderson | Ryan Mummert |
USCAA
(7 Coaching changes)
| | | | |
| --- | --- | --- | --- |
| Press Release | College | In | Out |
| tba | Manor College | tba | Robert Fisk |
| tba | Bryant & Stratton College-Albany | tba | Bob Godlewski |
| 7/1/2023 | Penn State Hazleton | Ian McCole | Jeff Nietz |
| 6/9/2023 | York County Community College | Zach Robinson | Kike Calero |
| 6/5/2023 | Mid-Atlantic Christian University | Lake Krehel | Michael Louis |
| 3/10/2023 | Penn State Greater Allegheny | Tim Quinn | Kenny Creehan |
| 1/29/2023 | Miami University-Hamilton | Tyler Thamann | Darrel Grissom |
NCCAA
(1 Coaching changes)
| | | | |
| --- | --- | --- | --- |
| Press Release | College | In | Out |
| 6/21/2023 | Carolina University | Jarett Miller | Jamie Lowe |