23rd Annual Best of Show Winner at 2022 ABCA Convention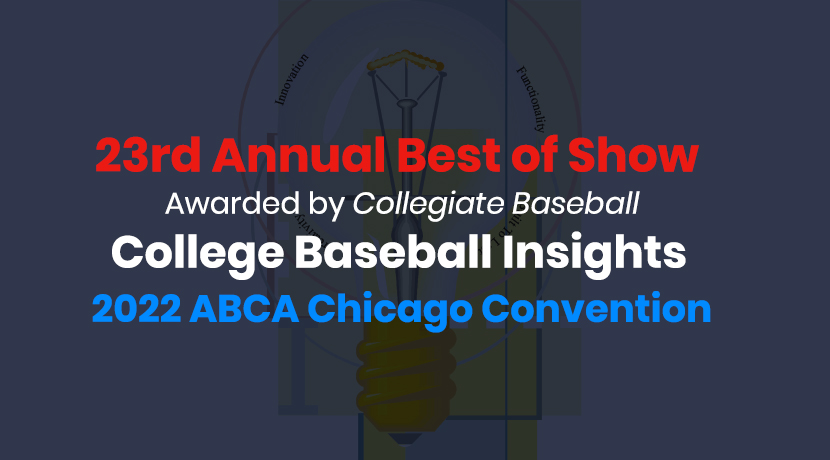 College Baseball Insights is proud to announce that we are one of the distinguished winners of the 23rd Annual Best of Show by Collegiate Baseball at the 2022 ABCA Convention in Chicago.
"Ten special inventions are tremendous
advancements for the sport of baseball."
~ LOU PAVLOVICH, JR.
Editor/Collegiate Baseball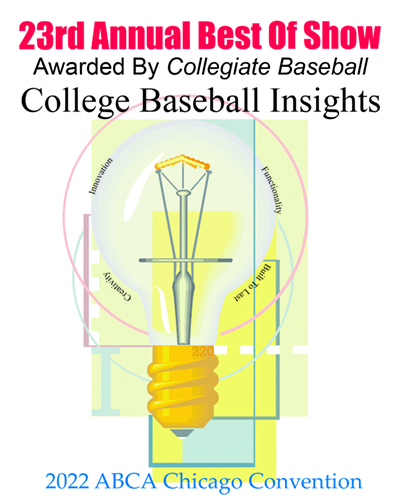 "Ten innovative products at the recent American Baseball Coaches Association Convention trade show were awarded Best of Show certificates by Collegiate Baseball. Now in its 23rd year, the Best of Show awards encompass a wide variety of concepts and applications that are new to baseball. The committee closely examined each of the 55 nominations that were submitted. A number of superb inventions just missed being named winners as 300 exhibitors showed their merchandise at the 2022 ABCA Convention with an exhibit hall that was larger than a football field," writes Lou Pavlovich, Jr. in the January 28, 2022 Collegiate Baseball newsletter.
Here is Pavlovich's review of CBI:
College Baseball Insights is a fascinating one-stop college baseball research website.
It provides data-driven tools to help student-athletes, parents, coaches and recruiters make the best informed decisions when researching any of the 1,704 college baseball programs.
The genesis of this website began in 2014 by Arthur Crichlow and has been refined into what it is today. His website has a mountain of information subscribers can look at from any baseball playing college in the USA.
You can access information such as:
How many outgoing players are there?
Why did they leave?
What was the position of outgoing players?
How many total incoming players?
How many were transfers?
What is the position of incoming players?
Historical trends for a team's attrition rates?
Conference win-loss record and overall with links to official conference websites.
What is the team's conference and overall record for the last five years?
What is the team's win-loss percentage compared to other teams in the conference?
What is the baseball team's athletic participation, staffing, revenue and expenses?
What is the total budget allocated to sports programs and how much do they spend on baseball compared to other teams at the school?
What are the baseball expenses 5 or 10 year historical trends?
What is the school's ongoing financial commitment to its baseball program?
How does the budget impact team performance?
What is the cost of attending a school?
What are living arrangements and costs?
Team roster turnover insights.
JUCO pipeline dashboard with a breakdown where players ultimately transfer to.
A monthly subscription costs $19.99, quarterly $49.99 and annual $99.99.
For more information, go to their website at www.collegebaseballinsights.com or call Arthur Crichlow at (609) 864-8924.